The average worker doesn't want fast food anymore. For most, it is hard on the digestion and generally leaves them feeling worse than they did when they were hungry. However, in the past decade, the demand for good food quickly, has not in any way diminished, especially with the rapid expansion of internet services and smartphones. More and more hungry people are turning to their phones to find and order  food to pick up on the way home from a long day at work or school. More frequently than not, they are ordering that food directly from their smartphone via browser or a smartphone app. This is good news for restaurants that serve better quality food that is more time consuming to prepare. Here are several reason why online ordering can help you kick start your restaurant business quickly and easily.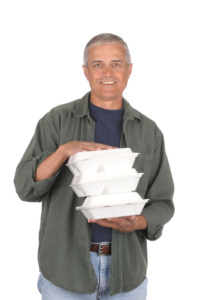 Online Ordering is Far More Efficient
Nobody wants to arrive at a restaurant to discover that their order was not prepared correctly. Not the customer, not the staff, and certainly not an owner or manager. When you take orders by phone, you are introducing a human element that is prone to errors, due to how busy your establishment is when the order is called in, as well as the noise level when they take an order phone call. When a customer orders online via an app or their web browser, the order is printed clearly so there can be no misheard orders or mistakes when writing the order down. The customer can also confirm that their order is correct before submission without having to wait for someone to read their order back to them. Bottom line, satisfied customers who know their order will be accurate, are repeat customers, especially if they love your food. This is essential to any new restaurant that is still an unknown quantity to diners in their area.
Online Orders Bring in More Business
In addition to making ordering more efficient, customers tend to order more food when they order online. Many marketing theorists attribute this to the fact that the customer is not holding up a line of other hungry customers. They take their time to really look over the menu before ordering. When customers can take their time, they more often than not choose to add more items to that order. Given the chance to think, who wouldn't want an appetizer with dinner, or to treat themselves to a sumptuous dessert? Marketing studies on this subject have all shown that customers order on average $4 more on every ticket. For a restaurant just starting out, that can be a significant boost in overall revenue. Best of all, some online ordering systems also allow customers to login and save favorite orders so they can just order a favorite meal, app, and dessert combination every time once they are familiar with the menu.
Online Ordering Shows that Your Restaurant Cares
Making online ordering available to your customers demonstrates that you are a restaurant that cares about their time, and that you respect how much they love your food and want to patronize your business.  Satisfied customers who have enjoyed their experience using your online ordering system will share this with friends, co-workers, and family. You become the local online order place that serves amazing food that makes ordering to-go a snap. You quickly find that more and more customers are coming through the door because they saw a friend post or share your site via social media, or they heard about how good your food is and how easy it is to place an online order. Soon enough, you will have all the business you can handle and then some.
Online Ordering Improves Cost Effectiveness
Providing online ordering is far more affordable than most restaurateurs realize. Some online ordering services charge a small commission on every online order received, and a small monthly service fee may be charged to provide you with an app or website and upkeep on both. This allows fledgling independent ventures to compete using the same tech as major restaurant chain franchises.
Ultimately, this is how your restaurant grows its business: providing exceptional service in house and online for customers who want good food quickly. When you add to a customer's life in a positive way, you are able to make your restaurant more than just a place that serves food, but an integral part of that customer's life from day to day. If you are just starting out in the restaurant business and you haven't implemented online ordering yet, you need to start as soon as possible. Nothing expands your reach and brings new customers through your doors like the ability to order online, and nothing keeps them coming back like your excellent food, service, and convenience.